Fred Martin One Person Exhibition
in the "No Room for Form" four artists exhibition
in the Shandong Art Museum, Jinan, Shandong Province, PRC.
January 2017




The four artists were, left to right
Jeremy Morgan Fred Martin Ming Ren David Frazer
with two of my paintings on the wall in back of us.
---
The entrance to the Shandong Art Museum.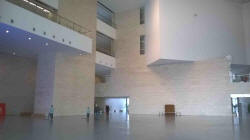 The ground floor of the museum.

People at the opening of our exhibition.

The lower part of my painting on the left
was made into the design for a coffee cup.

It was set up that I should give
a five minute introduction
at the entrance to the exhibition.

Each artist had a different gallery.
This one was mine, with the work
hung simply in a line around the room.

This is what work looked like hung on the wall.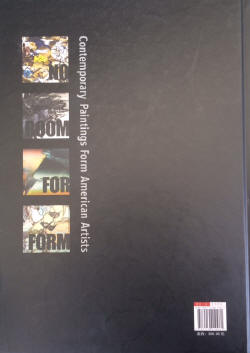 The hardcover catalog for the exhibition was very elaborate but filled with errors.

1. It should have said "...from (not 'form') American Artists" The title page had the same error.

2. Most of my work in the show was lent by the Farhat Art Museum in Beirut, Lebanon. No credits were given to the Farhat Art Museum.

3. One of my works in the show was lent by a private collector and left completely out of the catalog.

4. All of Ming Ren's works were given the same title.

This was the introduction to my exhibition.

This the crowd at the opening of my show;
everyone wants selfies.
.

The image from my painting on the wall was made into a scarf (like the one I am wearing) and an umbrella like the one on the floor.
had not been consulted for permission.