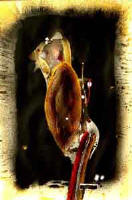 A selection of paintings, July-December 2001.

Click here for January-June 2001


Unless otherwise noted, all paintings are acrylic on paper, 44 x 30 inches
Images marked ** are described in the catalog for my 2003 Retrospective at the Oakland Museum of California.
Click the ** to go to the description.
Scroll down for the paintings, click the image for a larger view.

#18, July 2001
"Tombstone"



#6, August 2001

** #7, August 2001

#1, September 2001
Private Collection, Ukiah CA



#5, September 2001
Private Collection, Oakland CA

#2 November 2001
Private Collection, San Francisco, CA

#3, November 2001

#5, December 2001
Private Collection, San Leandro, CA

#6, December 2001


#7, December 2001


Click here for January-June 2001