1986-91, The Time of Mourning
1987-89
Keeping and Giving Away the Arch of Life...
Click here for 1986
Click here for 1990
Click here for 1991
---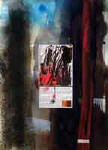 I bought my first computer in 1987. It had become possible for an individual to write, typeset, illustrate and print his own work, and I thought this would solve the foremost problem left me after making that branch of the Tree of Life already more than a year before (see 1986, Last of the Spring). The problem was that I had to keep my work—I felt that if I lost a single piece, the arch of my life would fall—but that for the confirmation of the art which was also my confirmation as a person, it had to be something people would like and want and have (yes, sure, it's pathetic but true, "Love my art means love me."). But, for anyone to have a piece of my art would be my loss of that piece and would then threaten with collapse my so precarious arch. By making a computer-reproducible art, I could both give my art away and get love, and keep my art and so keep my life. I made many pieces this way, combining computer printouts of text and simple pictures (my printer was dot matrix and my scanner four inches wide and hand-held) with painting. A few, even, from time to time I gave away.
The rest of the 1980's and the first two years of the 1990's were exclusively with this combination of computer printouts and painting.
I began with pamphlets—one On Beauty, another about Dirt in the Gutter (the then two poles of my inner life—and broadsides… imaginary postcards from Italy: Rome, the gardens at Tivoli, Venice. Each copy was the same image and text, and each was painted differently. I read a review of Lagerlof's Ideal Landscape, Annibale Carracci, Nicolas Poussin and Claude Lorrain, and set out to make ideal landscapes scanned not from her book but from pages of The Art Bulletin. One image was an ideal image about "bring back Palladio"… Jean and I had been to his Villa Rotunda as the dream mandala villa of the center of the soul. Another of my images was scanned from an early 19th German print of a ruined tomb on the Appian Way… I made it an image of death—even the tomb was a dead ruin—and transcendence into the clouds.

Aphrodite, Dionysus and Priapus
(my family portrait)
Undated last half of 1987



The Geography of Beulah
Undated in 1987

Dragon Song I
July 1988


Dragon Song II
July 1988

Dragon Song III
July 1988


Dragon Song IV
July 1988


There is no music of that power...
July 1988


Untitled
April 28, 1989


Verbal Color
July 15, 1989
Click here for 1986, Venetians, Romans and Others
Click here for 1990, Old Tombs and Others
Click here for 1991, Ashes