Paintings #5a-h, March 2008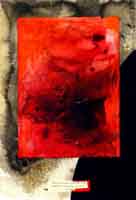 #5b, March 2008
All are acrylic on paper, 22 x 15 inches
Scroll down for the group
March 10, 2008.
Lac Oaureau, late afternoon.
#5a-h, March 2008
I copied the texts out of the last month or two of miscellaneous notes, and then made the paintings without considering the texts. The texts were about living and dying; the paintings were about the "color sounds" of the rainbow. The problem has been how to get the texts—the words of the song—somehow into the image that is the music—not even considering the questionable literary quality of the texts…

Later on, as I worked on all of them at once, I noticed—
The real key of the whole theme is "Where the blood goes."

.


#5a, March 2008… muddy blacks with some quinacridone maroon
The rainbow sound of all of us.
From thin to thick
And thick to thin,
From light to dark
And back again
Hear the sound,
Write the words
The rainbow song of all of us.

And then, at the end of working came
"Put the darkness at the end in each—
say go your way, go your way, go your way…"


#5b, March 2008... reds
Today, tomorrow,
Tomorrow, today
Yesterday, neverday
Everday, now.


#5c, March 2008... orange
Listen to the cry of pleasure and pain,
Listen to the deep down cry
Of nothingness again.




---


#5d, March 2000… .yellow
Up through the rainbow
Our souls do climb,
To fall again to rotted earth
That is our time.

#5e, March 2008… green
Seed and blossom,
Blossom and seed—
Our life lives eternal

#5f, March 2000… blue
Aspire and fail
And fail, aspire—
Our turning circle always

---


#5g, March 2008…purple
Breathe out
Breathe in
Breath out again—
The world breathes us.

#5h, March 2008… black and white
You knew it would be like this,
But it never is.
---
Site Map to March Paintings

Click the image to go to the work


#1, March 2008


#2, March 2008

#3, March 2008

#4, March 2008

#5, March 2008

#6, March 2008
---
Click here for all Fred Martin Art